Feel comfortable in your body
When it comes to movement, we know you want to feel comfortable in your body.
But in today's fast-paced lifestyle full of overwhelming responsibilities and life's constant distractions, it can be difficult to find time to take care of yourself. Overwhelmed, rushed and unable to keep up, you might feel unsure of how to fit self care into your schedule. That's just not fair to you.
At Skyterra Young Adult, we believe everyone deserves to live life to the fullest and to feel at home in their body. We believe yoga is meant for everyone and that it can become an enjoyable and impactful part of your life. That's why we provide you with the support and guidance you need to develop a deeper mind-body connection during signature yoga classes.
Movement-focused approach for effective, accessible yoga
Every week we offer restorative, grounding, and strength-building yoga classes. Our yoga experts are here to help you dive into your practice, and will help to expand your awareness around alignment, breath, yogic philosophies and practices. Because after all, you are the only expert of your body. We are the guides that help you explore movement in your body in a safe way. During our yoga classes, you will explore and learn what feels best for you. You'll also receive resources for self-care practices and support in cultivating a yoga practice at home.
Signature yoga classes at Skyterra Young Adult include the following every week:
Learn the fundamentals of yoga
Nourish your nervous system and invite more length into your body
Improve your posture and groundedness
After your time at Skyterra Young Adult, access signature recipes, educational videos and more to continue taking care of yourself.
Learn meditation techniques during classes and lectures
There's no wrong way to have a body
We hear from so many guests who say they don't have the body for yoga, who believe that they must exercise harder and eat less before they step onto a yoga mat. They believe yoga is only for Instagram models. We want you to know that's not true. It's not about the size or abilities of your body, but about respecting your body and everything it can do for you, wherever you are on your journey.
That's why in addition to your fitness and movement classes, we promise to transform your thinking about yoga by the end of your stay. Our yoga classes are designed for all levels with your comfort in mind. You'll not only increase your muscle tone and strength, but you'll learn the tools to manage daily stress by incorporating yoga into your every day, easily and sustainably.
You'll learn how to focus on mindfulness in daily routine and organization, which will set you up for long-term success.
We meet you wherever you are
There's more to yoga than moving your body through the poses. We are here to help you discover how to move confidently in a way that feels good in your own body.
Our continually evolving yoga classes are informed by the latest scientific research and are designed to inspire and challenge. Yoga celebrates embodiment and a growth beyond limiting beliefs, and it's that refreshed perspective that you'll come to fully understand and believe in a relatively short amount of time.
During your stay, you'll attend yoga classes that prioritize quality and consistency when it comes to movement. During every class we meet you where you are. As you enhance your yoga and mindfulness practice, you'll also build flexibility and agility and boost your confidence in your body's abilities.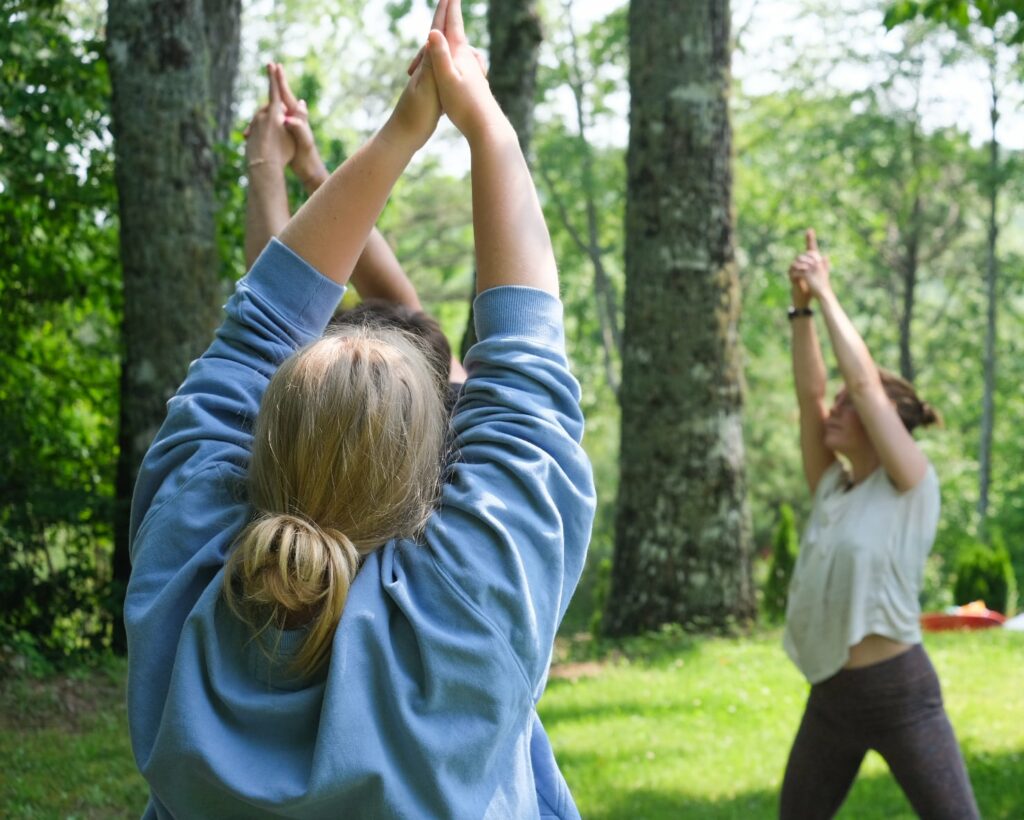 Still not sure? Try our free Jumpstart program at home.
Are you tired of feeling stuck? Ready to catalyze real change in your life but don't know where to start?
Click below to start the Skyterra Young Adult Jumpstart Challenge, your five-day crash course in jump-starting your journey to a healthier, more confident you.
With this FREE, inside scoop into the therapeutic wellness program at Skyterra Young Adult you will receive:
Instructor-led yoga class
Guided meditation
Culinary education videos
Workout routines.